Bruno and Herda
"All we need is faith, trust and fairy powder." – Peter Pan
Horacio
My Horacio has got a lavender heart. For some time now I put small pillows of lavender and a piece of paper with a nice saying with my animals. But I never say, what it was.
Little donkey
Once upon a time there were two little girls. And they had a donkey. It was called Otjauik however nobody knew who gave him the name. But it has never been any matter.
Fiona
A lot of funny things are happening in our world right now. Sometimes strange creatures come to us too.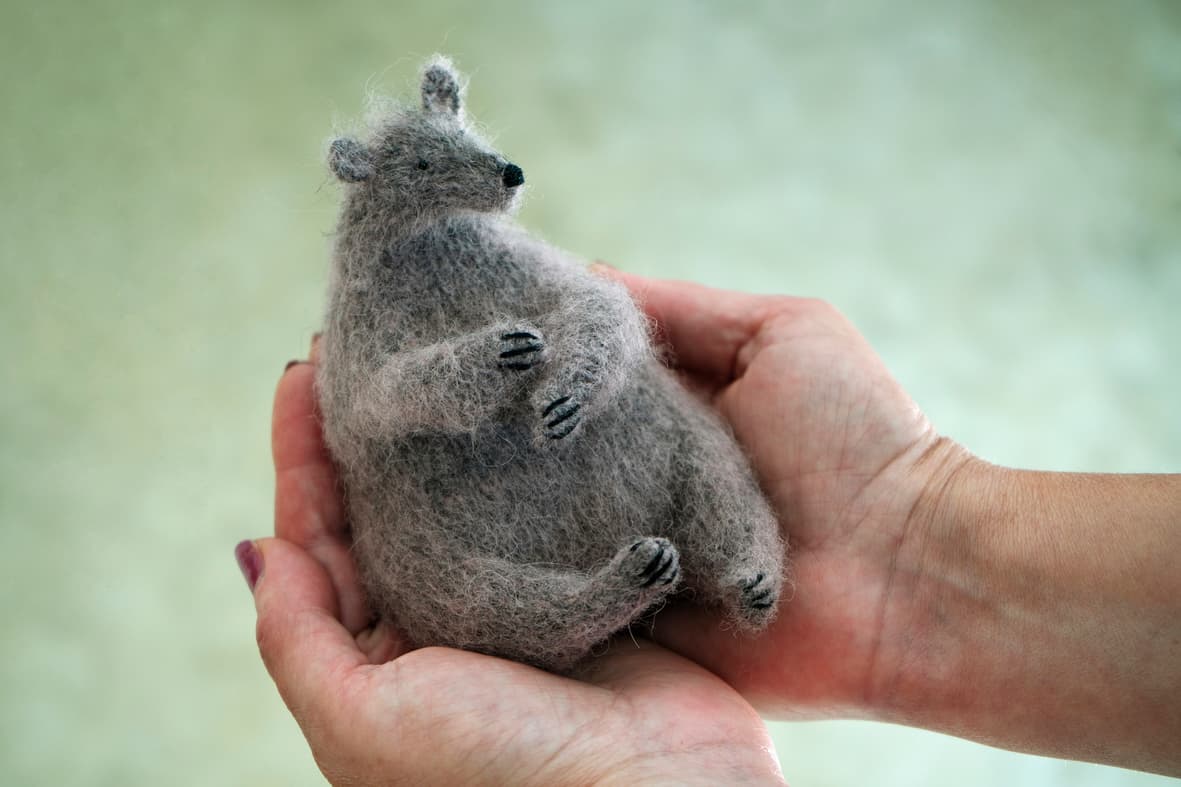 Bear
I love October. Me and my son`s Birthdays are coming up. I know a handful of people, whom I like a lot. They will also be one year older in October. This bear wanted to be born yesterday. October is a golden bridge between summer and winter. We miss summer and think of Christmas already. Happy Birthday to all October children!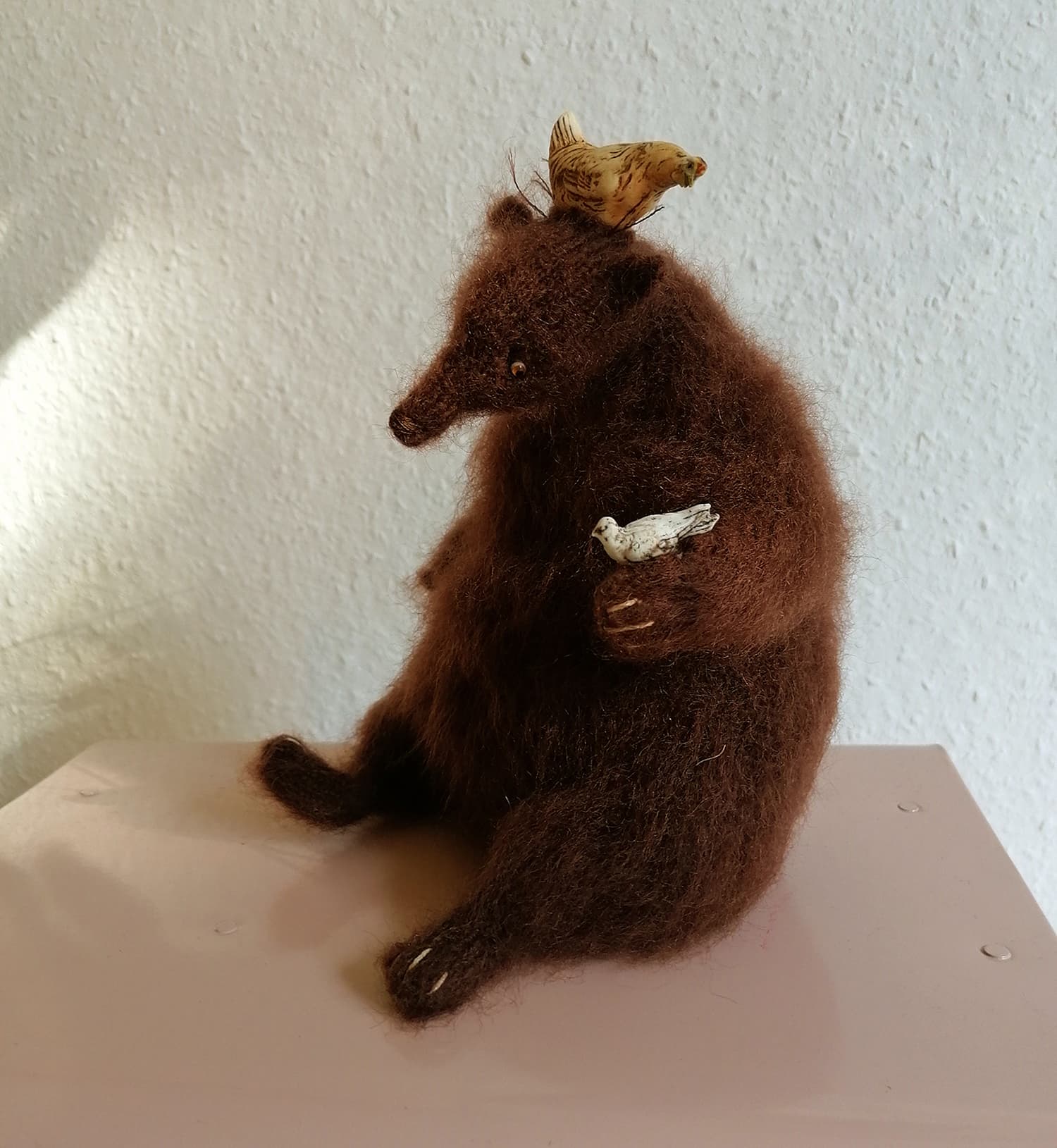 Freunde
Friends are the gardens to have a rest in. - Antoine de Saint-Exupéry
Skunk
Yes, I'm a skunk. Yes, I'm stinky sometimes. And yes, some people still find me pretty charismatic.
Chimera
A Birthday. Once, the mysterious Chimera also used to be a child. She couldn't fly. Her baby down was soft and people smiled when she came. That's why she was hiding her childishness deeply. For her birthday however she wished many smiles. Oh yes, she was just a pink baby and it was so natural.
Seytan
Do you know the place between sleeping and waking up? The place where your dreams are still with you? There I will love you forever, Peter Pan. There I will wait for you.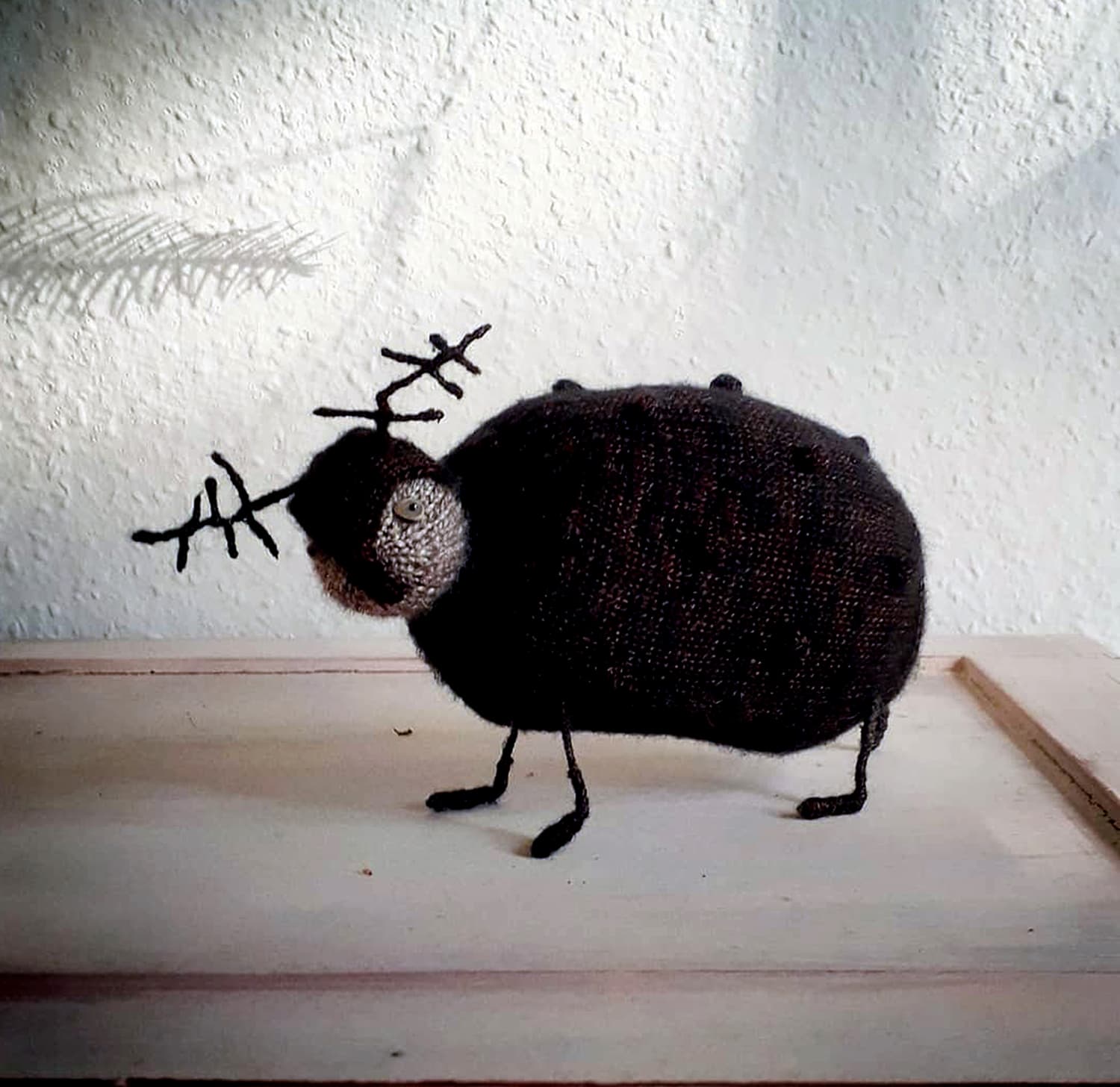 Chocolate
Once upon a time it has been a very nice but empty box of chocolates. It had a fantasy that it was a pearl clam. And it was a deer who loved chocolate most of all. And both met some day. Only they knew what happened next...
Pony
Gertrude is obviously a pony. But she got her hairstyle from a living mohair goat. And I learned how difficult it was to make the wigs.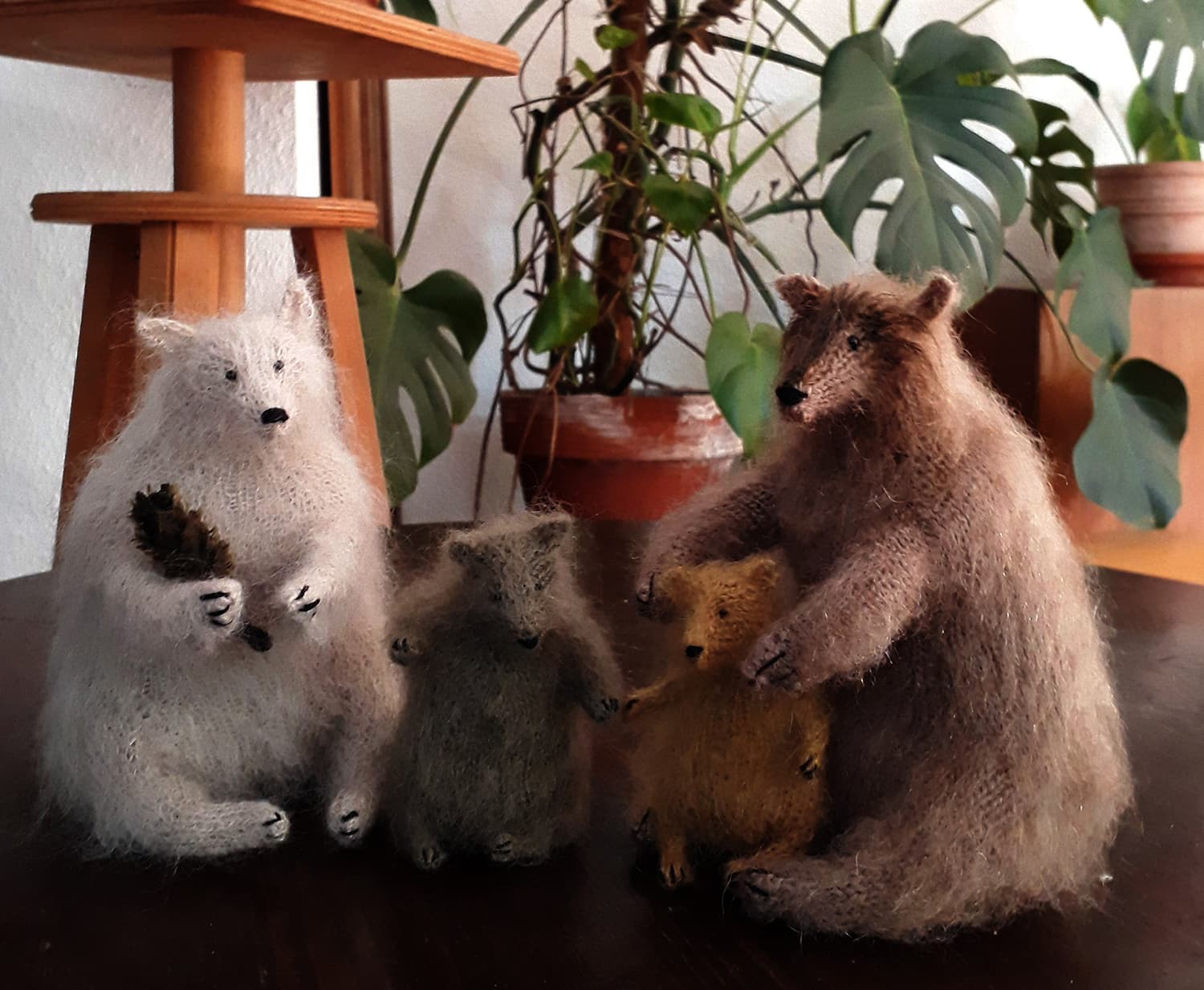 Pregnant lady
A young lady stood in front of my workshop window, taking pictures of bear dad and the little bear. I invited her to Masterskaya. She told me that she was pregnant and would like to deliver the news to her husband symbolically. My bears matched perfectly for the ocasion. I was supposed to go to Hugglets and told her the animals were going to London soon. But if she wants them so much I could go without.. No, she said, something beautiful like that should be on show. And if they were to be sold there, I could make the others specially for her. And that's exactly what happened. Nothing new. Just life, love and my animals.
Polar bears
I've never had anything like that. I started knitting an animal. After a while I understood that it schould be a little bear who wanted to be born as soon as possible. So the story of the polar bear has become complete now. There are a lot of things which don't ask if they actually want to come true. If it occurres to you, my advice is to take it easy and see if miracles happen.
Penguin
Like in each penguin family the same happens in Masterskaya: a chick comes once a year. And like all chicks, however they don't stay long with me.
Mouse
Sometimes one really needs a mouse.
polar fox
Little Daniela came with her aunt to choose a gift for her 6th birthday. She immediately found the arctic fox for herself, but her aunt said, "You should wait till another week". To comfort the kid, I gave them a card with the painted arctic fox and said, "Look, it has different eyes". "Me too", she answered and looked at me. Indeed she had one brown eye and an other one that was blue.
Little bears
For whatever reason, these little creatures are loved by many people. And I know for a fact that if there's no more room on the sofa today. That means they'll be leaving soon.
Thomas
The big comeback. My Thomas flew to New York at the end of 2019 to represent some endangered animals of Germany there. I don't have to explain what happened next. A COVID pandemic. Today came my field hamster back to Masterskaya after his great overseas journey. He has grown up, like everyone who has experienced a lot.
Bears
The distribution map of my bears is exciting. The pink bears (left) live exclusively in Great Britain. But the little mouse-like ones (right) are a very invasive species. They go and settle throughout the world.
Raptor
There are not only animals in my Noah's Ark, but also paintings. My vulture feels comfortable and honored next to the beautiful picture of my friend Cornelia Zabinski. Amazing how they harmonize! Peace, harmony and safeness… These are the most important matters, which Noah's Ark can give.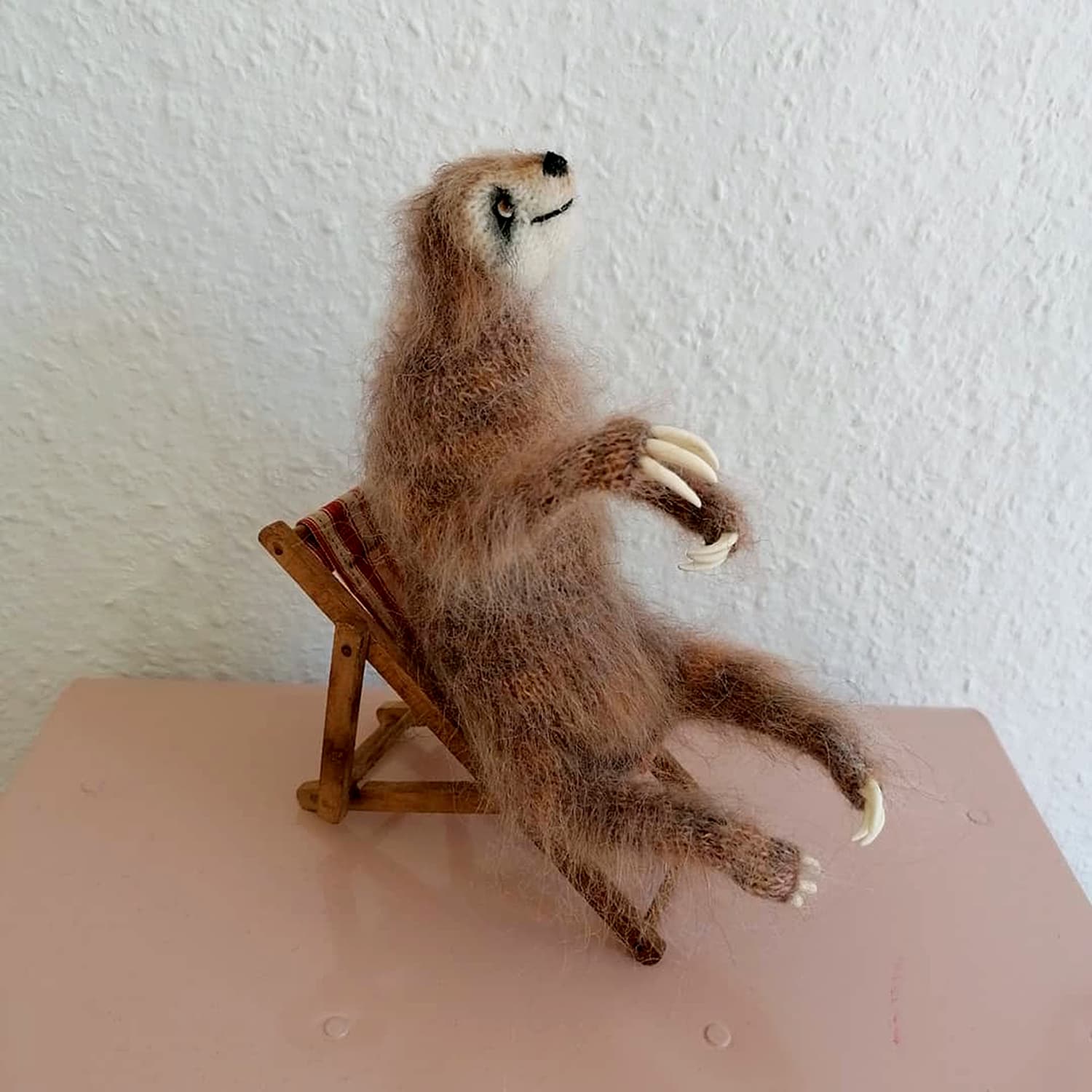 Sloth
At first she came alone. After some small talk she smiled at me: "Utterly an artist", she said. "I'll come back with my husband." And when they came I understood immediately that he was blind. She put each animal gently in his hands telling about colors and characters. And he always recognized what kind of creature it was. Finally he made up his mind to take a sloth. I told him the price. He smiled and pulled money out of his pocket. "What a sudden stroke of luck", he said. But I knew that eventualities never happen.
Moose
My respect and enthusiasm for the moose made me thinking for a long time, whether I could embody the one of mine.